New Eagle has an in-vehicle data logging solution to make CAN data logging easy.
The VeeCAN 320 (VC320) data logger matched with Raptor-CAN allows a user to collect and view raw CAN or Analog data. The VC320 reads and – most importantly – displays data traffic, thereby allowing you to verify whether the device is wired correctly, or whether the sending unit is operating.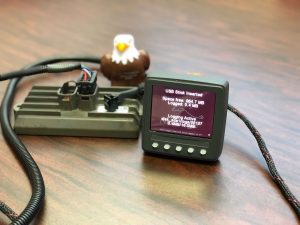 Further highlights include:
Data stored on an easy to move USB memory stick that is transferred to your PC for viewing via Raptor-CAN or conversion to your favorite tool.
The rugged VC320 is now available with 2 CAN bus channels and optional analog inputs.
Download our Data Logging white paper here or contact us with your requirements.
For anyone interested in our company eNewsletter, you can sign up to receive our eNews. We send out updates on company once per quarter…just enough to keep you current on happenings at New Eagle! You'll receive information about software updates, product news, and application highlights.
Next, we want to let you know about our newest effort–a monthly Raptor Newsletter! Each month, we will be sending out an email with information about our Raptor platform, including updates, tips and tricks, and other Raptor-related news. If you want to learn how you can take control with Raptor, sign up for the newsletter.