Raptor-Dev 2018a_1.0.12120 Release
Key Features:
· MathWorks 2018a Support
· CAN DBC Block User Interface / Parser upgrade
· ECM/GCM196 J1939 Library Support Added, Third-Party Calibration Tool Support updates
· ECM196 Engine, Diagnostics updates
· GCM70 12bit ADC support, CAN updates
· BCM48 Ethernet fixes for UDP, EEPROM update
· XCP Calibration robustness enhancements
· Resolved 70 issues, features, bug fixes from software.neweagle.net
· Numerous datasheet, help, and documentation updates.
Raptor-CAL 2018a_1.0.11391 Release
Key Features:
· Improvements to the Display Grid
· Resize the grid on the fly. Just right-click on the grid name and choose "Resize Grid".
· Zoom in/out with the key combinations CTRL+"+" to zoom in and Ctrl+"-" to zoom out.
· Row and column headers can be frozen. No need to scroll to the beginning of the sheet to resize a column.
· Improved connect/disconnect functionality. Connecting or Disconnecting from the Signals Tree is smoother and more responsive.
· Connect to and view displays of multiple instances of the same firmware build. Great for modularized applications.
· Resolved 38 issues, features, bug fixes from software.neweagle.net
Raptor-Test 2018a_1.0.10373 Release
Key Features:
· Added support for new ECU targets
· Fixed LITE mode issue with MotoHawk targets
Raptor-CAN 2018a_1.0.10198 Release
Key Features:
· Added New PC Gateway Tool (CAN Reverse-Engineering Aid)
· Fix for sending and receiving IEEE754 floating point CAN DBC fields
· Added multi-select of signals in log analysis tool
· DBC loading robustness improvements
· Added multi-CAN bus monitoring capability
For more details, see the full release notes.
Have questions, or need access to our software website? Contact our team by emailing [email protected] .
We've updated our product versions for commonality: 2018a_X.Y.Z
X = Major release
Y = Minor release (e.g. service pack)
Z = Internal build number which aids in tracking product and resolving any issues in the field.
To design and calibrate OBD monitors, especially misfire, expensive and complicated development ECU hardware is typically used to collect data quickly enough to analyze each individual firing event, like the picture below.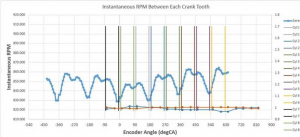 This expensive development hardware is no longer a requirement thanks to Raptor and the ECM196, according to New Eagle Engineer, George Kelly. In Raptor, he set up a trigger to capture and store faster data in the ECU that would not be available over the slower CAN XCP link. Basically, all one has to do is trigger it once and it fills arrays in the ECU memory at a high speed, then you can read out those arrays more slowly over CAN XCP later.
Two pictures below are parts of the misfire detection using Raptor ECM196.  Raptor is an Embedded Model-Based Development (eMBD) development tool for rapid development of production control systems.  The ECM196 is an open automotive controller programmed with Raptor and exclusively available from New Eagle and its network partners.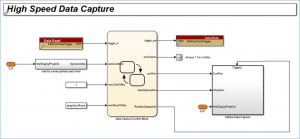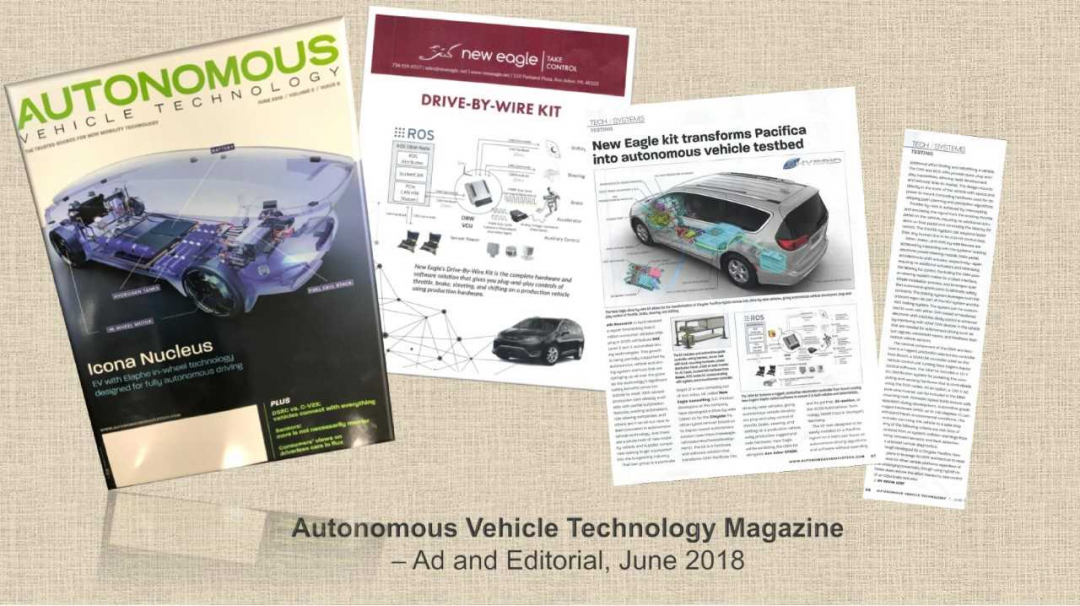 After our trip to Stuttgart, Germany for the Autonomous Vehicle Technology World Expo, it's great to be back in our Ann Arbor nest!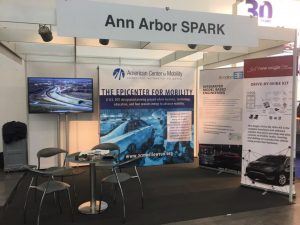 In Stuttgart, we connected with many industry innovators and autonomous vehicle designers to discuss the future of control system creation and integration in autonomous vehicles. We were joined in our booth by our friends from Ann Arbor SPARK and our German partner, 3E-motion.
We shared about how Raptor, our efficient control system development platform, can be used to create reliable control systems for autonomous machines.
We also introduced our newest autonomous control solution—the Drive-By-Wire Kit. This kit is a Raptor-based solution that contains all the production hardware components and software tools needed to transform vehicles from OEMs to drive-by-wire machines.
While the Drive-By-Wire kit has been demonstrated on a Chrysler Pacifica, it can also be tailored for other vehicles. New Eagle's ASIL-certified engineering expertise can help create and integrate custom control systems to carry emerging autonomous machines from prototype through production.
If you missed us in Germany, read more about it on Autonomous Vehicle Technology's website, and save the date for our upcoming appearance at the Electric & Hybrid Vehicle Technology Expo in Novi, Michigan! We'll be exhibiting in booth 316 on September 11-13, 2018.
To learn more about New Eagle's upcoming trade shows, product releases, or complete control solutions, contact our team or connect with us on social media.
Save
SaveSave
SaveSave
SaveSave
---

---
SaveSave