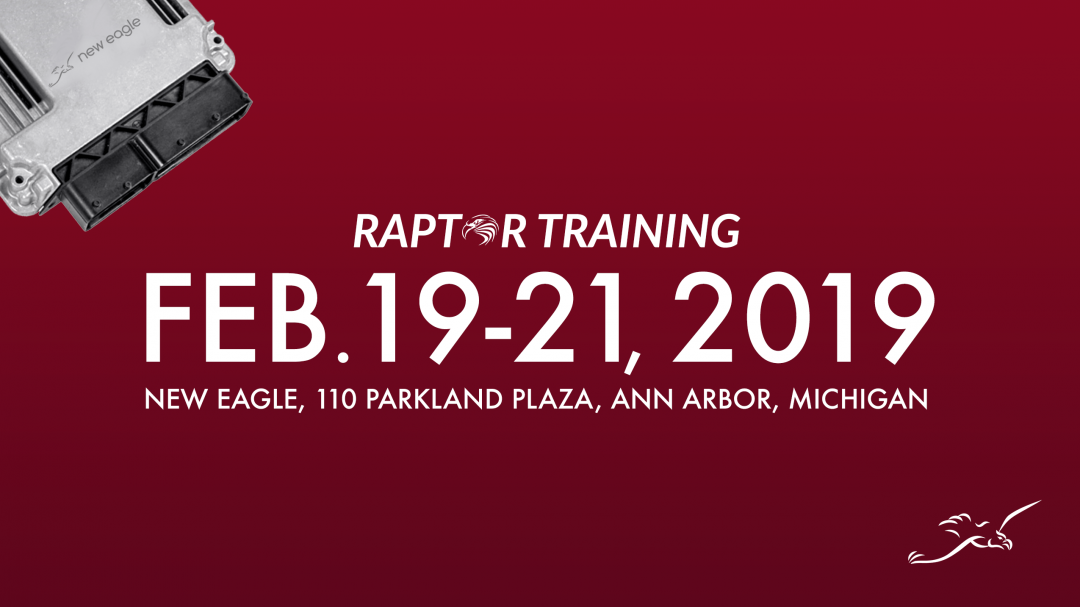 At the end of February, we, at New Eagle, will continue to offer our popular Raptor Training program! This three-day, model-based controls development course will be held at New Eagle's Headquarters in Ann Arbor, Michigan. Participants will receive an introduction to the Raptor platform through hands-on experience with the Raptor-Dev and Raptor-Cal tools.  
Get Trained
Join us on
Tuesday, February 19  – Thursday, February 21, 2019
at
New Eagle Headquarters, Ann Arbor, MI
Lunch and all required training hardware will be provided. After the training, you will receive take-home materials and a certificate of completion.  
With 10 seats available, registration is on a first come basis, so please register soon if you wish to participate.  
If you cannot attend the February training session, subscribe to New Eagle's Raptor newsletter for email notifications about future Raptor Training classes and other can't-miss Raptor Platform updates.  
What to Expect in Raptor Training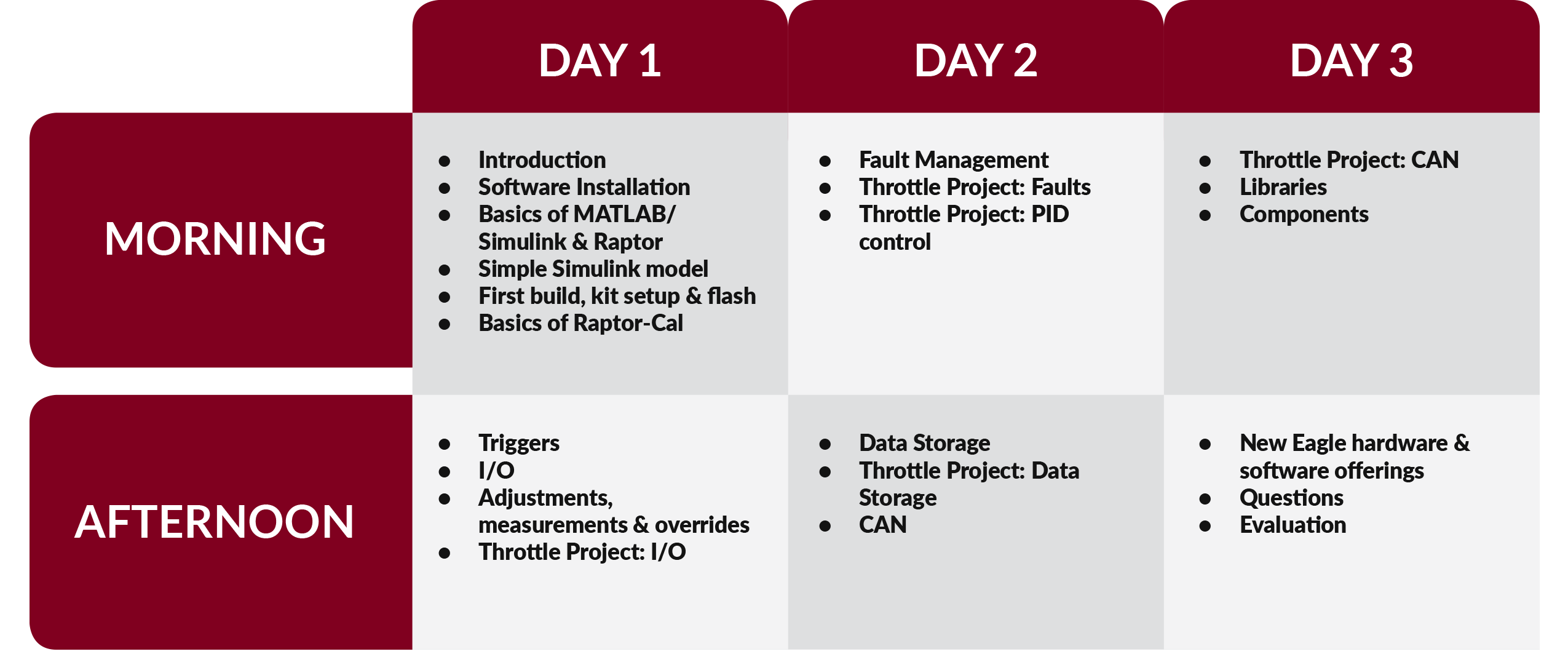 Using a throttle body controller project as a guide, attendees will be introduced to Raptor-Dev in the MATLAB/Simulink library by creating a model intended for a target piece of hardware. Attendees will then use Raptor-CAL to flash the compiled software onto the hardware and to make live calibratable adjustments on the flashed ECU.
On-Site Training Options
If you cannot attend a Raptor Training course at New Eagle or would prefer a more personalized training of New Eagle's model-based development tools, New Eagle engineers can travel to your team's work facility for hands-on instruction catered to your needs.  
To sign up for the training course, or to speak with a member of our team about scheduling customized, on-site training, email [email protected].  
We look forward to seeing you in class!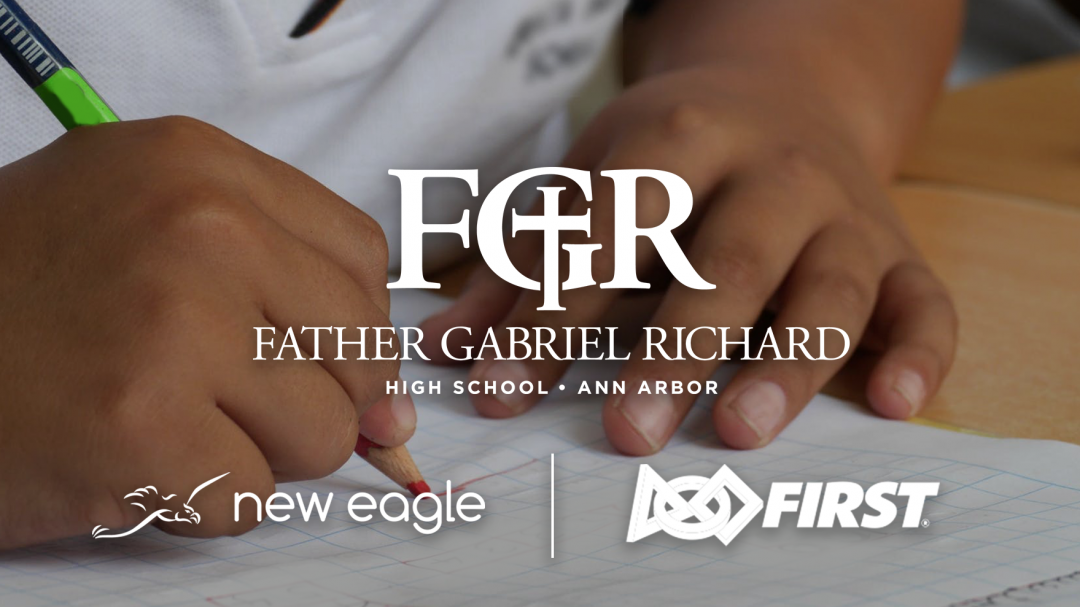 At a mid-sized high school in Ann Arbor, Michigan, a small group of students huddles around computers, components and whiteboards.They aren't working on a school project, though. They're building a competition-worthy robot.  This is the Father Gabriel Richard High School FIRST Robotics team. Called the "Byting Irish" (a play off the school's "Fighting Irish" mascot), this group of students is in a race against time, budget and competition to build not just a bot that functions, but one that can withstand a three-day tournament at Kettering University.

FIRST Robotics, a not-for-profit organization designed to spark interest, participation and education in science and technology among children, has nearly 95,000 teens participating in its 2019 bot-building competition. The Byting Irish is the first robotics team in Father Gabriel Richard High School history. Sponsored and mentored by New Eagle, the rookie team is quickly picking up valuable skills in a hands-on environment.
"They're getting a lot of great experience with harness design and construction, data interpretation and vehicle schematics," states Adam Klauer, a New Eagle engineer mentoring the team. "For students hoping to pursue mechanical engineering, they're also getting a solid foundation in computer modeling, rapid prototyping, 3D printing and hardware packaging "
Students interested in software, meanwhile, are getting an early foundation in safe engineering best practices. "Besides teaching them control basics, we're also introducing them to things like CAN bus protocol," states George Reeves, a New Eagle software engineer mentoring the team alongside Klauer.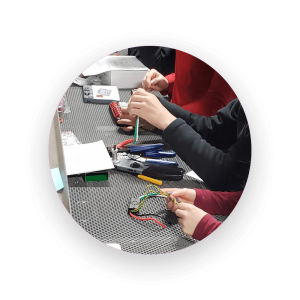 In addition to providing mentorship and financial backing, New Eagle has also hosted Byting Irish team meetings at its facilities, giving students a taste of what it's like to work in a fully-equipped professional engineering environment.
"I think it was a cool experience for the team to have, working where Adam and I work. It gave them a little taste for the field, which I hope will spark some interest in their future education and career goals," comments Reeves.
While the high schoolers are gaining valuable engineering skills, Klauer and Reeves believe the most important takeaway for the students isn't what the kids can do, but how they do it.
"Every great innovation comes from collaboration, so the fact that they're building these essential communication and teamwork skills now is awesome. It's been really cool to see how they've grown, and really rewarding to be a part of that process," states Klauer.
The Byting Irish will compete on March 7-9, 2019 at Kettering University. To learn more about Father Gabriel Richard High School and its FIRST Robotics team, visit its website.
"We're really proud of the progress they've made not just as engineers, but as a team. It'll be cool to see how these kids carry what they've learned into the future,"  concludes Reeves.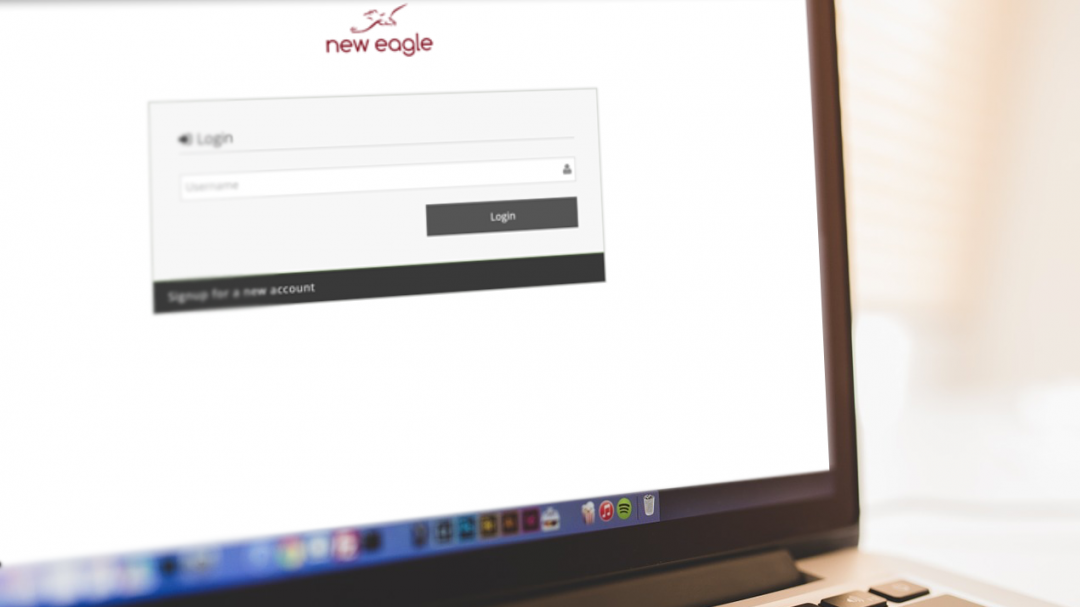 With the kickoff of 2019 comes a new release of Raptor-Dev. Including New Eagle Licensing 12.5, Raptor-Dev2018b_1.0.12429 is now available for download at software.neweagle.net.  
Access Raptor-Dev2018b_1.0.12429 release notes here, and Raptor-test regression notes here.

What to Expect from Raptor-Dev2018b_1.0.12429
GCM/ECM196
Added Fixed Nonvolatile (EEPROM) capability

Increase ASW (user) stack from 5K to 10K RAM

Fixed output status (diagnostic) blocks

Fixed J1939 address claiming logic

Several I/O issues resolved
BCM48
Enable overcurrent shutdown on OUTPUT1/4/7/8, HBRIDGE11_12, HBRIDGE13_14

LIN Enhancements
General
EEPROM Driver Initialization Status Improvements

Several J1939 DM and Transport protocol updates

Several simulation and update time bug fixes and enhancements

CAN Tx/Rx and DBC Pack/Unpack Interface fixes

Added support for 32-bit CRC (e.g. J1939 CVN)

Several Fault Manager improvements (including OBD)
Register for Raptor™ Training
Get the most out of Raptor™ by registering for New Eagle's three day, hands-on training course. With the first 2019 training scheduled for February 19-21 at New Eagle's Ann Arbor office (110 Parkland Plaza, Ann Arbor, Michigan), there's never been a better time to master embedded model-based development.
Space is limited, so register soon!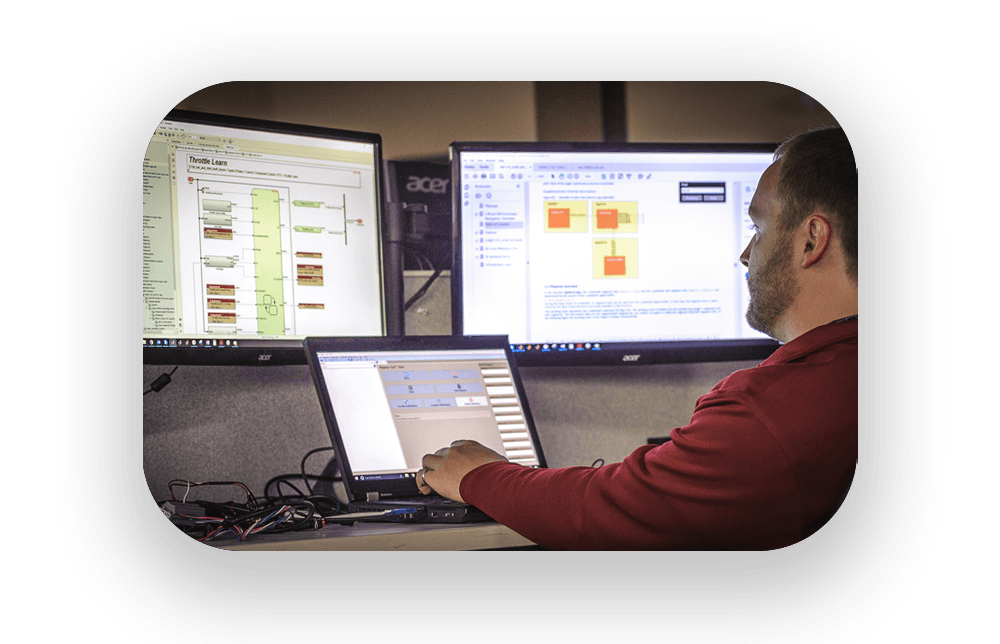 Join the Raptor™ Community
Want to be among the first to know about Raptor™ platform updates and software releases, plus get exclusive application tips? Join the growing Raptor™ community of insiders by subscribing to Raptor™ News. It's free–just hit the button below to get started!