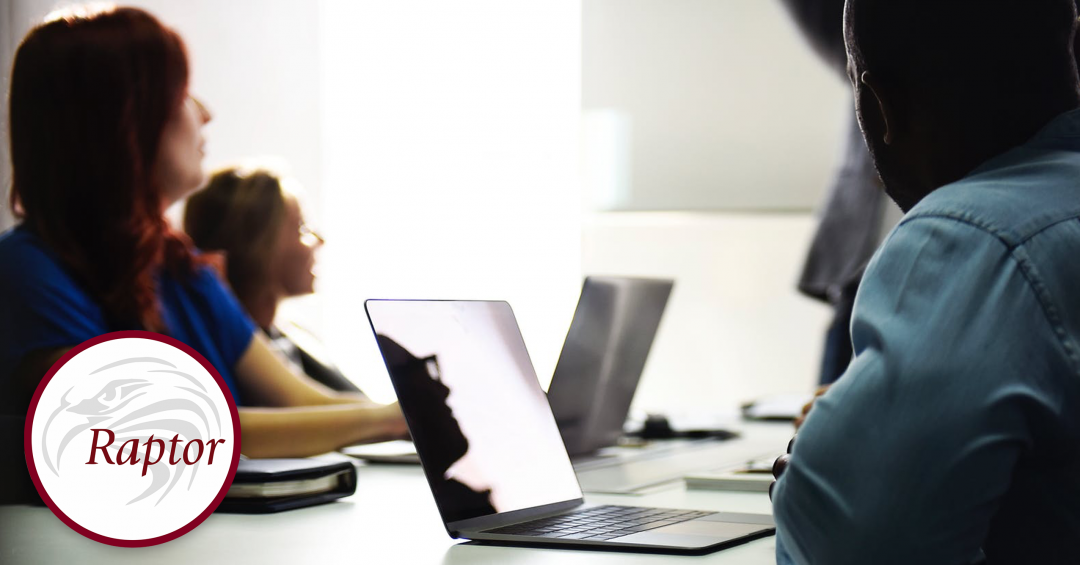 If you're a Raptor user with software maintenance, make sure to get the newly released update, Raptor 2019a2_2.0.  This version features key improvements, including:
GCM80: LIN Master Implementation, CAN queuing and XCP connection stability improvements
GCM70: Programming configurability improvements
GCM196: Output49, INPUT 31/32 updates
BCM48: CAN Transmit improvements
Displays: Initialization robustness enhancements, touchscreen button robustness improvements, display blocks interface fixes
J1939: added newly defined PGNs from standard
DBC-based CAN Message and Packing blocks bug fixes
Fault Manager feature additions and enhancements
Datasheet expansions and updates
Review the full release notes on our wiki, or download the Raptor-Test regression reports here. 
Raptor 2019a Webinar on August 23
Tune in at 2 p.m. EST on August 23, 2019 for our in-depth webinar on Raptor 2019a. Not only will you learn all about the latest Raptor update,  but you'll also get a peek into what's coming next to the Raptor Platform this year. 


Introducing the VeeCAN 500
This dash-mountable, low-profile, 5-inch color display is the latest addition to the Raptor product line. Wrapped in a rugged, environmentally-sealed enclosure, it delivers a sleek, modern look while remaining easily programmable in the MATLAB/Simulink environment using Raptor-Dev. Get the specs on our wiki, or contact our sales team for information about how to purchase. 


Raptor Training Sept 17
Get hands-on experience with Raptor during our three-day training course in Ann Arbor, Michigan on September 17-19, 2019. During this program, you'll learn how to create real-world applications with Simulink and Raptor as you create models, build and program an ECU, and calibrate in real time with Raptor-Cal.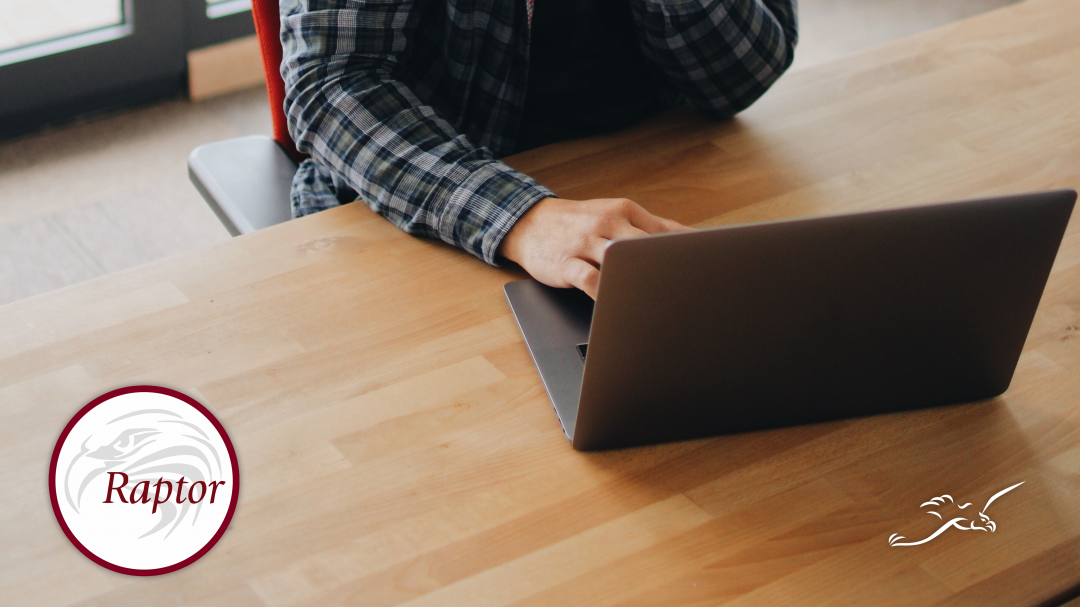 Join us for our popular Raptor Training program where participants will receive hands-on training with our embedded model-based controls, Raptor platform. Participants will come out of this three-day course with hands-on experience with the Raptor-Dev and Raptor-Cal tools.
Tuesday, September 1 7  – Thursday, September 19, 2019
Defense Corridor Center for Collaboration and Synergy
7205 Sterling Ponds Court
Sterling Heights, Michigan 48312
If you can't attend the September training session, reach out to our sales team to inquire about additional options customized to your needs. Also, be sure to subscribe to New Eagle's Raptor newsletter to stay informed about Raptor toolkit's tips and tricks, updates and future classes.  
What to Expect in Raptor Training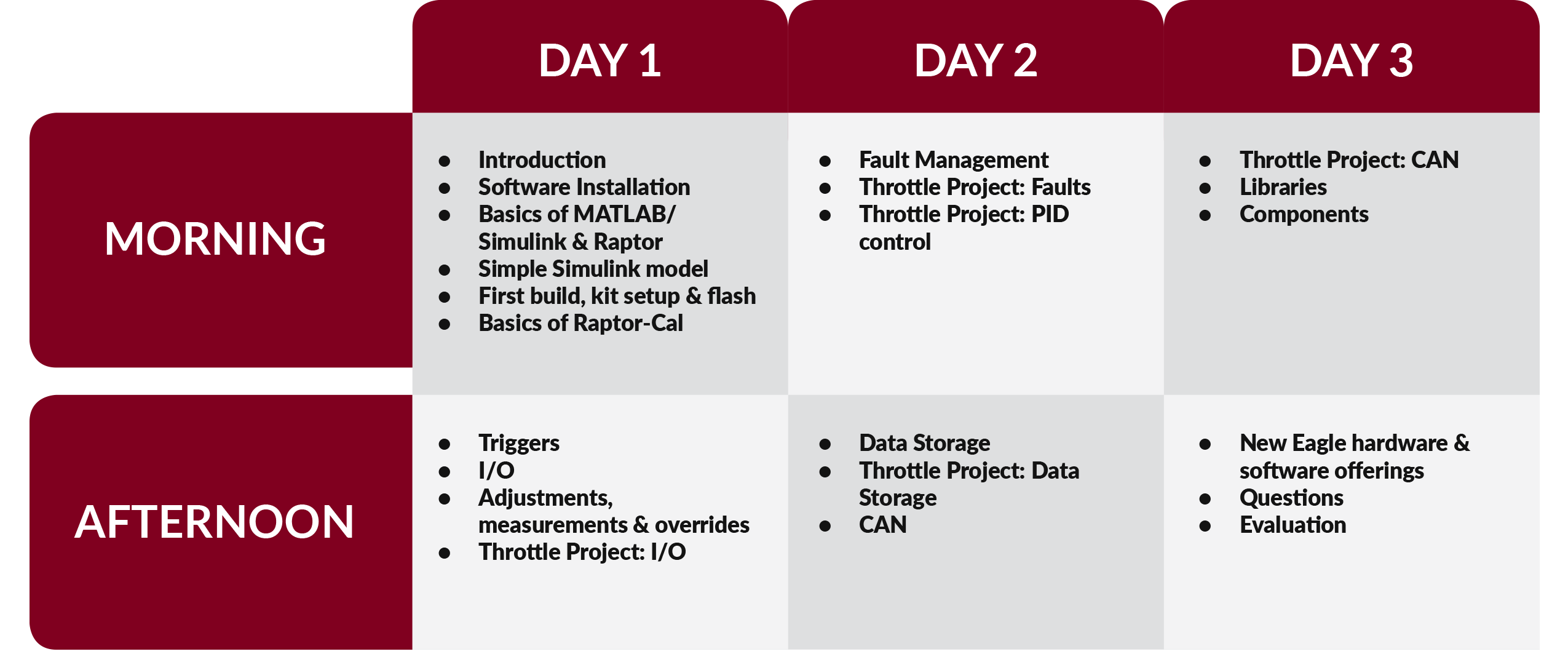 Attendees will use a throttle body controller project as an introductory guide to Raptor-Dev in the MATLAB/Simulink library. This will allow them to create a model intended for a target piece of hardware. Then, participants will use Raptor-CAL to flash the compiled software onto the hardware and make live calibratable adjustments on the flashed ECU.
On-Site, Customized Raptor Training Options
Can't make it or prefer a more personalized training of New Eagle's embedded model-based development tools? Our Raptor experts can travel to your team's work facility for hands-on instruction catered to your needs.  
To learn more about these options and schedule a training at your location, email us at [email protected].  
We look forward to seeing you in class!