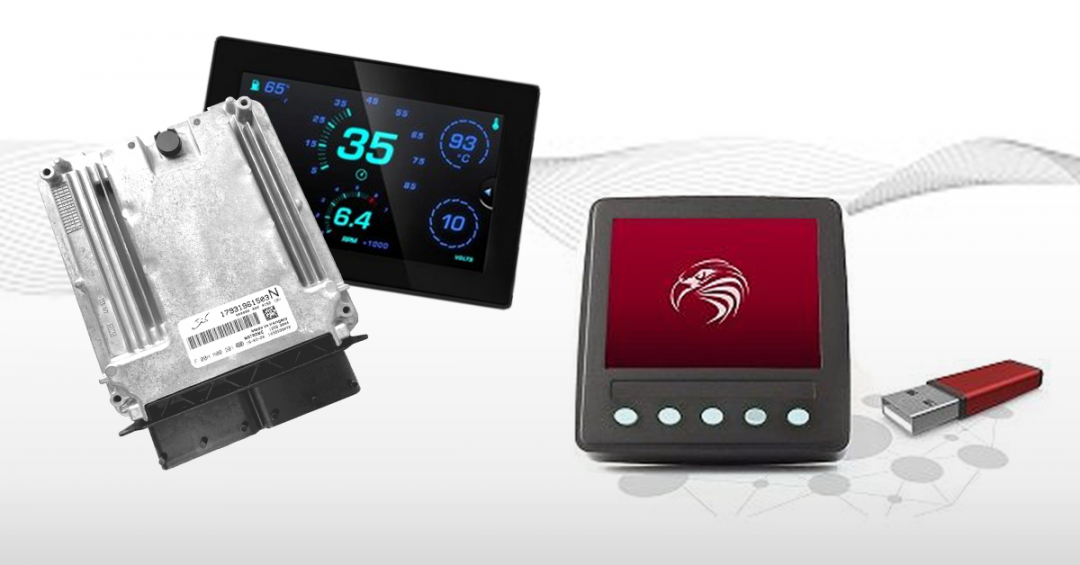 Establishing trusted relationships with major original equipment manufacturers (OEM) can be an overwhelming task for those looking to acquire parts for smaller, lower volume projects. Even when these relationships begin, collecting the integration information necessary to develop a system is tedious and can significantly slow down a project's timeline. If you're developing low volume projects, the inability to establish these types of relationships is frustrating.
This is where New Eagle can help you. Our well-established relationships with major OEMs can supply you with the production hardware and integration details you need to develop your project. Whether it's a low budget concept project or high-volume production program, get access to what you need starting on day one of your development project. If you're still thinking about cultivating your own relationships with automotive suppliers, learn about the necessary steps you'll need to take.
Developing Relationships with OEMs
Major suppliers strive to deal with Tier 1 or high-volume production programs since they guarantee high rewards. These companies are designed to handle continued, high-volume programs, like fleet management or high-level commercial vehicle distribution. If you're able to support a consistent supply of components from these manufacturers then great! If you can't, then they won't have the time or resources to develop a relationship with you.
Once you do get the conversation going, the legal steps you must take to get the relationship off the ground can be costly and time consuming. Why? Because these relationships require more than your average Non-Disclosure Agreements, which, in and of themselves, are already extensive for these suppliers.
Multiple Production Parts from a Variety of Manufacturers
After establishing the legalities, the next step is to research all the available parts and figure out which ones will work best with your system. However, your complex system has multiple parts. How are you going to ensure that every part of the system can communicate with one another? You must go to each vendor and gather all the detailed product and software integration information for each part.
Consider how difficult this could be when procuring products from multiple different vendors. Especially since not many standard distributors supply this necessary documentation.
Work with a Trusted OEM Distributor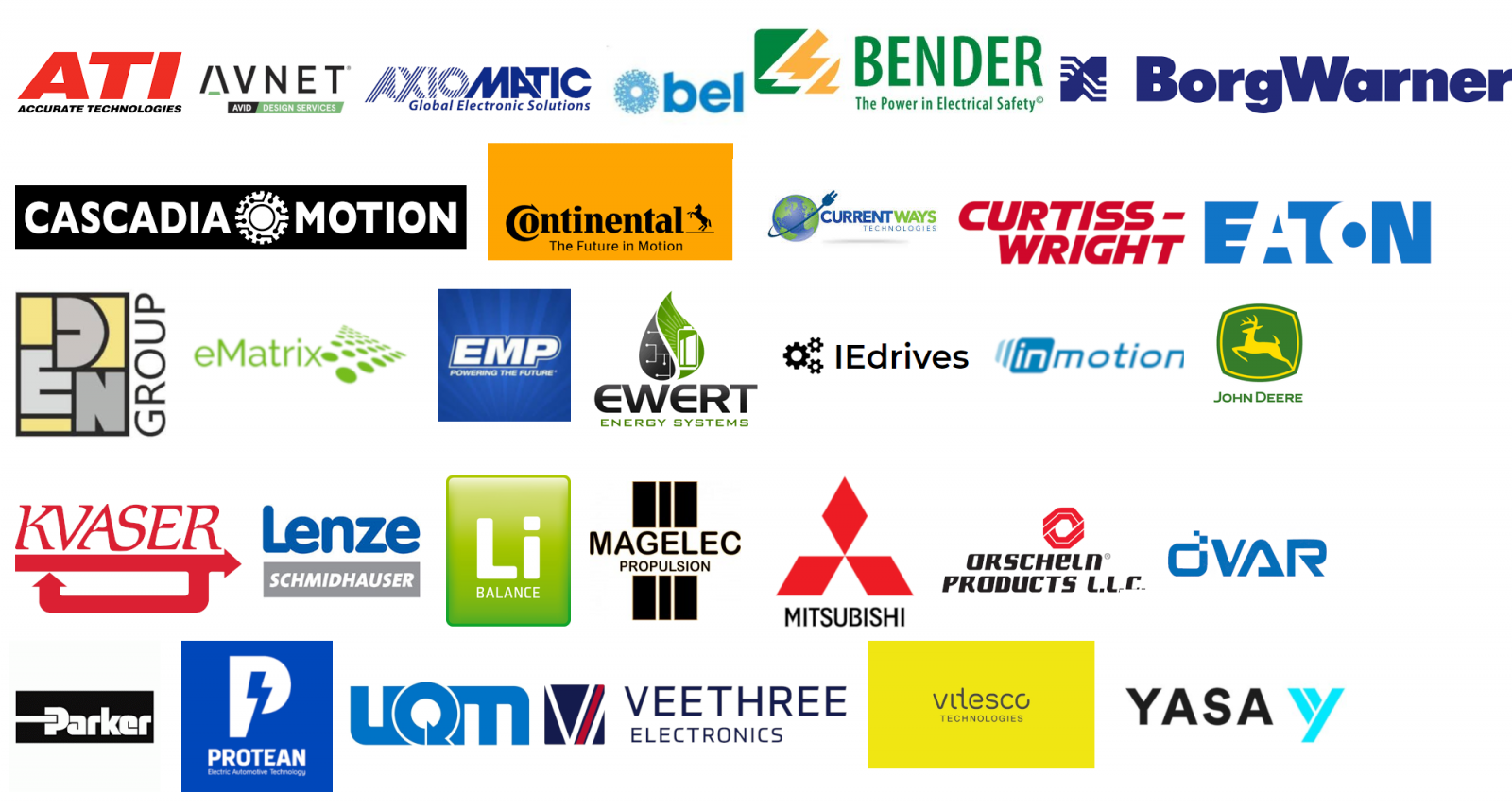 There is another option to cultivating your own relationships with automotive suppliers. Work with an establishment who already has those relationships in place. Here's where New Eagle can help you. Over the years, we've cultivated relationships with a variety of OEMs, doing our due diligence to promote trusting relationships that benefit you. With this trust in place, we receive a consistent supply of components from these manufacturers for distribution and integration. This allows us to support both fast-paced, low budget concept projects as well as high-volume production programs.
As a trusted distributor, we have years of experience working with lower volume projects as these OEMs will often send us referrals. We act as the liaison between suppliers, such as John Deere and BorgWarner, and non-Tier 1 companies such as yourself. As another benefit, certain vendors, like Mitsubishi, only supply their products to our distribution team.
New Eagle is Your One-Stop, Production Shop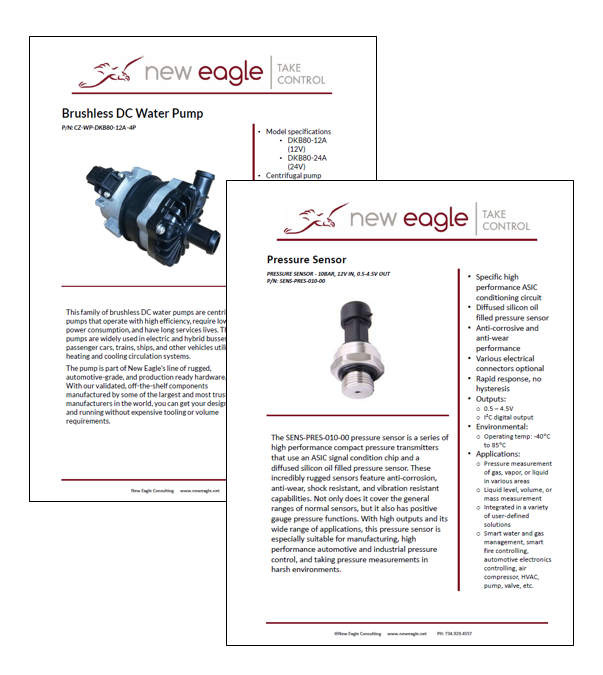 When purchasing through New Eagle, all relevant information will be right at your fingertips. We have taken the time to not only navigate these supplier relationships for you, but to also gather all product information for external distribution. With an NDA in place, access all of our product's data sheets, CAD files, .dbc files, etc. on our Product Wiki or Product Guide regardless of the original manufacturer. If we don't have the information, we can leverage our relationships with these OEMs to get it for you.
Are you not certain which hardware you'll need? We have you covered with our experienced sales and engineering teams. They can work with you to figure out which components will integrate best with your system. By working with us as your one-stop, production shop, we can also provide you with
Insight during your project's earliest stages.
Strategy in mass production.
A supply of high-volume, production components.
Now, do you still want to cultivate your own relationships with Tier 1 automotive suppliers? Or, would you rather save time and money with New Eagle's one-stop, production shop? We can offer you the same ruggedized, off-the-shelf hardware tailored to suit a variety of applications. Should you need additional assistance in getting to production, we offer consultation services and a software tool platform called Raptor™. Email [email protected] to start this conversation with us. We're here to assist you.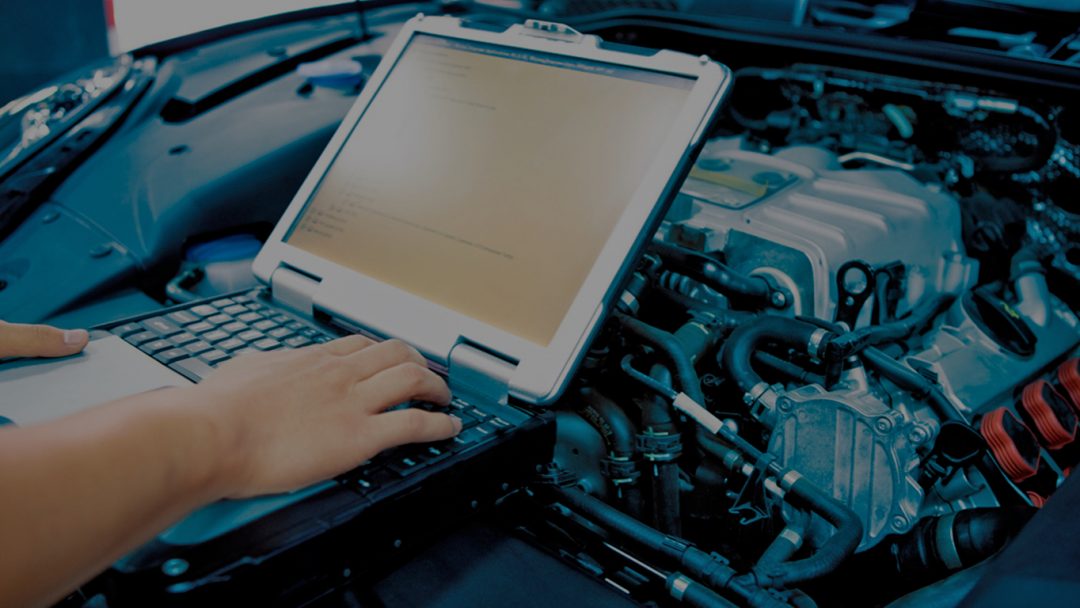 If the end game of control system development is to get your system or vehicle into production, you need to be as efficient as possible at each stage of the development life-cycle. It can be really frustrating, and costly, to get underway with a project and run into roadblocks that could have been avoided with the right tools. We've identified three mistakes that can create friction and ultimately slow your project to a halt.
1. Not Thinking About Hardware First
We have a saying around here: Hardware selection drives tool selection. Kevin Alley, Director of Programs at New Eagle explains:
"One of the challenges control engineers face is that when they're in prototype development they don't know what kind of controller hardware they're going to need. If they choose a software platform at the front of their project that doesn't have the right I/O for what is needed later…they'll have to start over. That's going to cost time and money."
Ideally, engineers should select controller hardware first, and with this in mind: controllers are more than just a piece of hardware. As vehicles and the software that controls them becomes increasingly more complex, the software itself becomes a significantly larger part of the value-added to the vehicle.
Selecting ruggedized, high-quality hardware that supports your ideal software is now a critical choice that needs to move higher upstream in the development process. Your hardware selection impacts your schedule and your budget. But if so much of your vehicle's value is reliant on its software, you better have the right ECU to support it.
How New Eagle Can Help:
Unless you're working for the big guys with an 'unlimited' budget, it probably makes more sense to use an off-the-shelf controller with an accessible, highly flexible, and open development environment such as Raptor™. You could select one of our many ECU models available at volume pricing, and use it directly with our Raptor development toolset.
If you have an existing ECU you'd like to use, we can port Raptor into it, then you can use it to develop, test and control your vehicle, without friction. Better yet, you can start development today with one of our off-the-shelf ECUs and then easily port your Simulink model when YOUR controller comes online.
And, if you need a custom ECU, we can build you one to match your requirements, leveraging our existing relationships with high-volume automotive-grade ECU suppliers.

2. Using the Wrong Development Tools
Engineers love rapid prototyping tools because they're fast and familiar. Many of them may even have learned the rapid prototyping development environment in school, and want to stay in their comfort zone. We get it and support it.
The key is to understand that most rapid prototyping tools are just that, useful for prototyping only. That's where they leave you. They are too expensive and don't have the facilities needed for production. And if you use a rapid prototyping tool that can't get you to production, or one that you can't afford –another point of friction is created. We would like to suggest that some rapid prototyping tools can take you to production.
Kevin explains:
"That's really the core of why New Eagle was founded. We wanted to offer controls engineers the same development style that they were used to, but with the added benefit of being able to take it all the way to production. The challenge was making high-quality controllers for them to run on that were affordable, and we have done that with our volume pricing."
How New Eagle Can Help:
We created Raptor-Dev so that engineers could quickly create custom software in a highly effective development environment, one that is already familiar to many.
Raptor-Dev is an open ECU development environment that lets you quickly develop in the Simulink environment and run on production embedded hardware without the friction common to embedded system development.
3. Using a Disparate Set of Tools
This arguably creates the highest volume of headaches. Mismatched tools mean manual adaptations that eat up your time, create more friction, and introduce another source of costly errors. Imagine running into roadblocks that require hand-writing new code at each of these stages:
Design
Development
Calibration
Validation
Testing
Service
Here's Kevin:
"What if, at any stage of development, you ran into a problem, and you could quickly change code in minutes vs. taking a week or more to get a new version from your vendor? How about changing the function of the code in seconds using a streamlined calibration interface vs. rebuilding everything. These quick-cycle iteration capabilities over many iterations will really add up – saving you time and cost."
How New Eagle Can Help:
The Raptor Platform™ is an end-to-end solution that allows you to work within a holistic development system that takes you through to production, quickly. Engineers can design, develop, calibrate, validate, manage and service their vehicles all within a compatible suite of tools.
Kevin explains the not-as-obvious value of the Raptor tool-chain:
"We've heard from our customers that one of the things they really appreciate is the fact that they can keep their IP in-house because Raptor eliminates the need to constantly submit requests for software changes to an outside vendor – instead they can just do it on their own. When we say 'Take Control' here at New Eagle, that's what we're talking about. Helping engineers take control of their project from start to finish."
If you're interested in getting started with Raptor, consider our Raptor Starter Kit. It includes Raptor-Dev, Raptor-Cal & Raptor-CAN.
You can also read more about each of the tools in the tool-chain in our eBook about the Raptor Platform.