New Eagle has an in-vehicle data logging solution to make CAN data logging easy.
The VeeCAN 320 (VC320) data logger matched with Raptor-CAN allows a user to collect and view raw CAN or Analog data. The VC320 reads and – most importantly – displays data traffic, thereby allowing you to verify whether the device is wired correctly, or whether the sending unit is operating.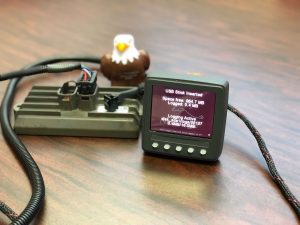 Further highlights include:
Data stored on an easy to move USB memory stick that is transferred to your PC for viewing via Raptor-CAN or conversion to your favorite tool.
The rugged VC320 is now available with 2 CAN bus channels and optional analog inputs.
Download our Data Logging white paper here or contact us with your requirements.