We provide engineering services that are designed to help you take control of your development cycle.  We're committed to providing you with the education, team, tools, and products you need to transform your idea into an innovation quickly, efficiently, and securely.  With us as your service partner, you'll have the reassurance of an experienced team to help you navigate difficult development challenges, but the freedom to remain in control of your project's development cycle.
If you have an idea – whether for a new machine, technology, or a way to improve your market – our team of experienced engineers can provide you with the advice and insight you need to refine your idea into a feasible one during this 'phase zero' stage of development.
With our years of experience working in designing, developing, and integrating controls in emerging technologies in a variety of markets, we've seen what works and what doesn't. New Eagle is your trusted advisor as you start your journey to production.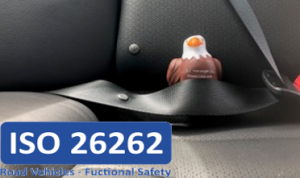 ISO26262 can be overwhelming, so let New Eagle be part of your safety team. Our Automotive Functional Safety Engineers (AFSE) are ready to help you develop your system with a path to ISO26262 certification.
Our team at New Eagle can help to properly perform the Hazard and Risk Assessment (HARA), which must be done early in the developmental process to ensure an accurate ASIL level classification.
We can evaluate or create a Device Interface Agreement (DIA) or Safety Element out of Context (SEooC). In addition, we are capable of performing a gap analysis, which can be used to evaluate the safety goals and functions that may have been established for the system. Finally, our tools are designed to fit within the process. We can provide Tool Confidence Level (TCL) documentation and our hardware is rugged, so it can be used in systems through ASIL D when properly designed into the system.
New Eagle's team of engineers can design and develop a custom control system for your application. We understand that integrating this custom system into your application might be hard – maybe the hardware recommended in the control system designs is new to you, or maybe you don't have the team you need to sustain prototyping.
New Eagle is your control system integration solution. Our crew of expert control system integrators provides the expertise you need to keep your project on-time and budget. Our team integrates the system in your prototype and documents each step of the process, so when it comes time for your team to replicate the process in production, it's easy to do with our step-by-step instructions.
If you don't have the team you need to support you on your journey to development, New Eagle's expert engineers can step in either as your engineering team, or as an augmentation to your team.  With experience in control system design, creation, integration, modeling, simulation, and embedded controls, we're able to help you transform your idea to innovation quickly and safely on a rock-solid control platform.