Giving Engineers the
Control They Want
Reduction in Development Time
Discover how New Eagle's embedded model-based development platform, built by engineers for engineers, is reducing time to market for a wide variety of vehicles.
Raptor Embedded Model-Based Development (eMBD)
At the heart of New Eagle is Raptor. Our production-ready open platform meets your project at every stage of development and expands what's possible.
Raptor-Dev allows you to stop wasting resources writing extensive code and start using a simple, yet powerful open-ECU development environment within Simulink. Leverage native blocks and features alongside Raptor blocks to quickly create custom software for compatible production controllers and displays.
Embedded Model-Based Embedded Development facilitates rapid development, easy testing, and quick calibration
Scales from a single user to an enterprise-level solution, while keeping your controls team lean and nimble
Open architecture enables company internalization of controls development and implementation
A seamless extension of familiar Matlab/Simulink development tools
Vehicle Integration Center
Does your engineering team need additional support? Our 60,000-square-foot facility includes our state-of-the-art vehicle integration center (VIC). The VIC team can handle or support turn-key builds and custom integration work – at New Eagle or customer sites.
Raptor Hardware Integration
The Raptor Platform is compatible with our proprietary Raptor ECUs, as well as off-the-shelf, customized, and customer-supplied controllers.
How It Helps Your Team Work
Provides flexible hardware options ranging from off-the-shelf to bring your own to custom-developed.
Enables custom engineering and new features on production hardware.
Meet your production, development, and end-user needs with off-the-shelf displays with integrated system controls.
Functional Safety & Cybersecurity
Raptor allows your team to have full oversight of the ISO 26262 functional safety standard and the ISO 213434 cybersecurity standard, while New Eagle provides important safety guidance at some of the most critical stages of development.
How It Helps Your Team Work
Optimize your safety strategy with a New Eagle consultation before and after your Hazard Analysis and Risk Assessment (HARA) and Threat Assessment and Risk Analysis (TARA).
Integrated safety and security functionality helps teams meet safety and cyber goals.
Design for safety and security once. The Raptor platform allows you to take full control from concept to development to production.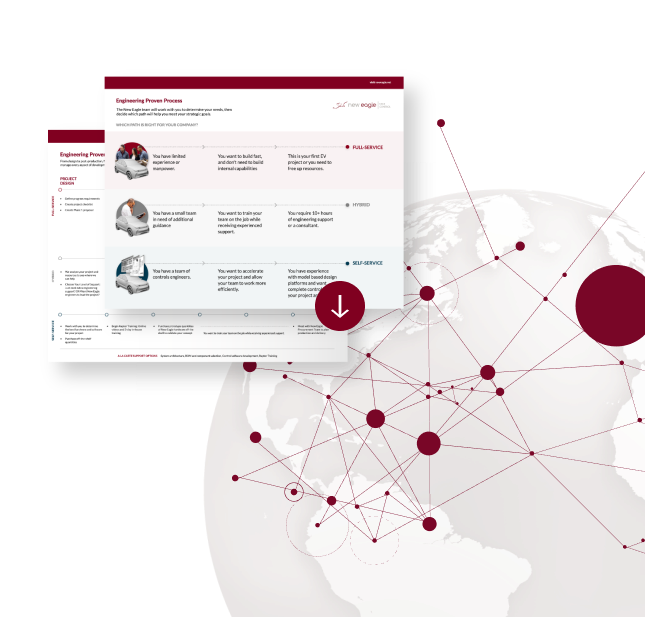 With Raptor, you decide how your vehicle is developed. Our proven process is built to accommodate customizability, scalability, and functional safety. Instead of fitting your vehicle to your tools, acquire the tools to build your optimal vehicle.
Learn more about our proven process
Find out how Raptor and New Eagle can accelerate your next vehicle Project by opening up new possibilities.