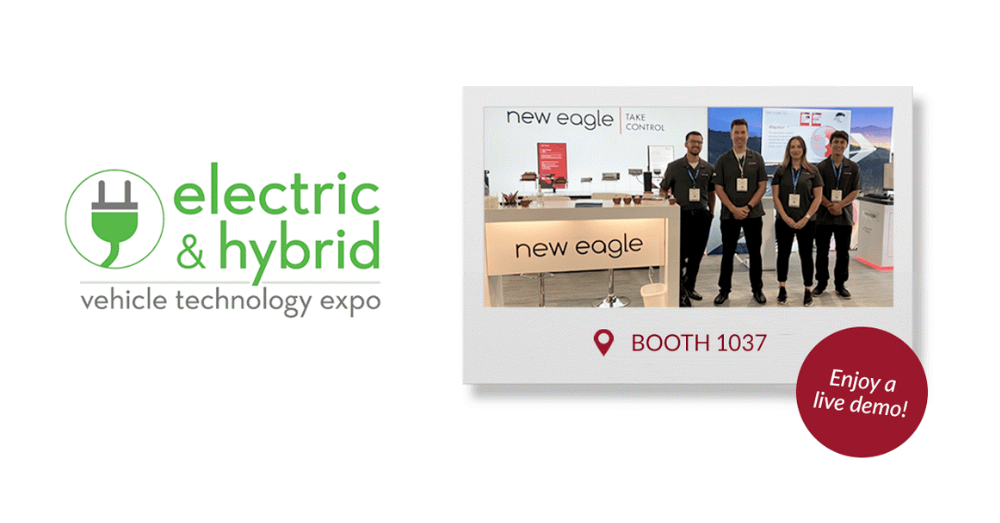 Join New Eagle at the 2023 Electric & Hybrid Vehicle Technology Expo
We are excited to return for this year's Electric & Hybrid Vehicle Technology Expo at the Suburban Collective Showcase in Novi, Michigan on September 12-14.
We'll be showcasing our new electrification platform for your next EV or Hybrid project, our new ECUs, and our core Raptor platform for your production needs. Come talk with our experts at Booth 1037!
What to Expect at EVT
Each year, the Electric & Hybrid Vehicle Technology Expo draws over 8,000 attendees, 600 suppliers, and 100 speakers together to discuss cutting-edge innovation in the EV and HEV industry. Here's what we're excited to share with you this year.
Attend a Demo of the New EV Development Platform
Learn about our new Electric Vehicle Development Platform (EV Dev Platform)—it may just be the perfect foundational software model for your next project. We have a new and improved base model, as well as custom configuration options and advanced, à la carte features to suit your needs.
Scheduled live demos of the platform will be running twice daily. Sign up today to save your spot. 
Our Latest ECU: GCM111
Check out the newest addition to our ECU line-up, GCM111, a programmable controller designed to operate in 12V vehicle systems. Its extensive IO, 3 CAN FD channels, and 1 LIN channel make it an excellent option for applications that require high performance with CAN FD and LIN connectivity. 
Raptor for Production
See how Raptor can simplify volume production for your project. Our Raptor platform pairs with our production ECUs and displays to ensure your vehicle is safe, secure, and reliable thanks to our ISO-capable ECUs, safety manuals, and engineers' expertise.
Experience New Eagle's Cutting-Edge Solutions
Join us at North America's largest advanced EV/HEV event and be at the forefront of cutting-edge technology and market growth. We look forward to chatting with you about how we can help with your next project. See you there!