With summer, comes the biggest update to the Raptor platform of 2019–Raptor 2019a. Plus, get up-to-date on the latest articles, products, and training opportunities designed to help you take control of your project and overcome mechatronic control system challenges.
Raptor 2019a 
Raptor 2019a brings notable updates to the Raptor-Dev, Raptor-Cal and Raptor Test tools.  Check out the release notes on our wiki, or skim what's new below:
Raptor-Dev 2019a
View our Raptor-Test regression reports for the Raptor-Dev 2019a_1.0 release here.
BCM48:

CAN queue improvements, EEPROM driver enhancements, added Duty Cycle measurements for frequency inputs

GCM/ECM196

: enhanced Application Monitor functionality, added redundant EEPROM capability, CAN2/3 robustness fixes, added J1939 support

GCM80:

CAN queue improvements, CAN messaging fixes, added J1939 support

Displays:

Updated default EEPROM storage logic, startup display improvements

Enhanced support for third-party calibration tools

Fault Manager enhancements

Improvements to the DBC CAN message blocks
Raptor-Cal 2019a
Transfer-Cals improvements

Stripchart autoscaling

Additional settings for compatibility with J1939

Resolved issues with Fault Manager support for Motohawk ECUs

Stability and performance enhancements
Raptor-CAN 2019a
Support for multi-bus simulation

Floating-point simulation precision fixes

Gateway function tool will now pass through new messages after initialization

Installer robustness improvements

Licensing updates
Raptor-Test 2019a
Improved initial ECU connection time

Added support for GCM70 and GCM80

Added additional script actions (Reflash, VerifyRunningSoftware, CANChannelUpdate)

Fixed enum variable handling

Custom plugin interface enhancements

Improved RPG file version migration

Licensing updates

Regression Testing
Inside every new Raptor-Dev release announcement, there's a link to download the Raptor-Test regression reports that outline all individual regression tests ran on the software, noting whether or not those tests passed. If you've ever wondered what regression testing is–let alone, why it's both useful and necessary for programs–read this helpful article to learn all about it.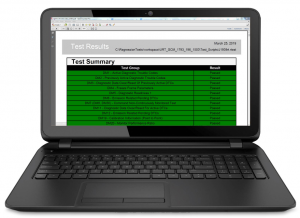 Telematics Gateway Unit 
This telematics gateway unit is summer 2019's newest addition to Raptor Telematics product line, manufactured by a global leader in telematics manufacturing. This unit meets automotive quality standards, approved by major US and European OEMs, heavy-duty vehicle manufactures, and agricultural implement suppliers–a capability not found in most rugged embedded controllers! 
To learn more about this new hardware,  contact our sales team or visit our wiki.

Don't Miss Raptor Training on September 17-19, 2019
Registration for the fall Raptor Training Course is now open! Build your skills with this hands-on, in-depth course, taught by New Eagle's Raptor experts. Sign up now to save your seat, or contact our team for more information.

Be among the first to know about the latest Raptor updates, upcoming events and training opportunities, plus get exclusive Raptor tips by subscribing to our mailing list. For more great ways to stay up-to-date with New Eagle, connect with us on social.