We're thrilled to announce that New Eagle has been honored with an award from MichBusiness!
New Eagle Consulting has won the Best of MichBusiness award in the Technology Guru category for 2017! This award is part of the MichBusiness Milestone Series that "[honors] and [celebrates] the heroes throughout the statewide business community that are blazing trails of their own on their journey through business." The industry-wide awards are given to businesses of varying sizes, from big to small, and are judged based on past year's growth, community impact, and industry impact in Michigan and around the world.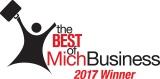 The meaning behind this award touches on the core of our values here at New Eagle. Teamwork, passion, excellence, charity, and integrity guide the work that we do and help us remain focused on our mission of helping clients take control of their project with our custom control systems and experienced engineering services. These values are what drive us in our mission to impact our community and industry not only in Michigan, but globally.
For those unfamiliar with MichBusiness, it is an organization powered by the Michigan Business and Professional Association. It hosts educational and networking events, as well as programs that have positively impacted over 150,000 businesses in Michigan in the last three decades. For more information about Michbusiness, visit its website.
SaveSave