As we enjoy the holiday season and the beginning of a new year, we're thrilled to announce a variety of innovative solutions and improvements designed to help you navigate your path to market with more efficiency than ever. From all-new drive-by-wire kits to a variety of additions to the Raptor hardware line,  keep reading to learn what's new this winter!
 New Eagle's Drive-By-Wire Lineup Continues to Expand
New Eagle's Autonomous Development Platform continues its expansion with the addition of three new drive-by-wire kits to the lineup of offerings. Built on ruggedized, certifiable hardware like automotive-grade OEM controllers, these kits not only deliver high levels of reliability for safety-critical applications, but easy scalability for seamless fleet deployment. Learn more about our autonomous solutions, or schedule a demo today!
New Additions to the Raptor Hardware Line
From platform solutions for controlling actuators, data collection and management, display to an on-board or remote operators, to a variety of ECUs and displays that range in pin count, input, output, memory, and processor configuration, Raptor's growing suite of automotive-grade products are making it easier than ever to get to production. Our relationships with OEM suppliers allow us to serve as a one-stop-shop for getting the best parts for your system. Explore some of our new and featured products below!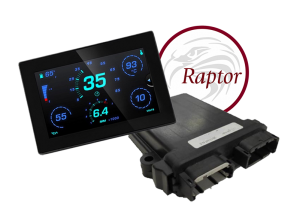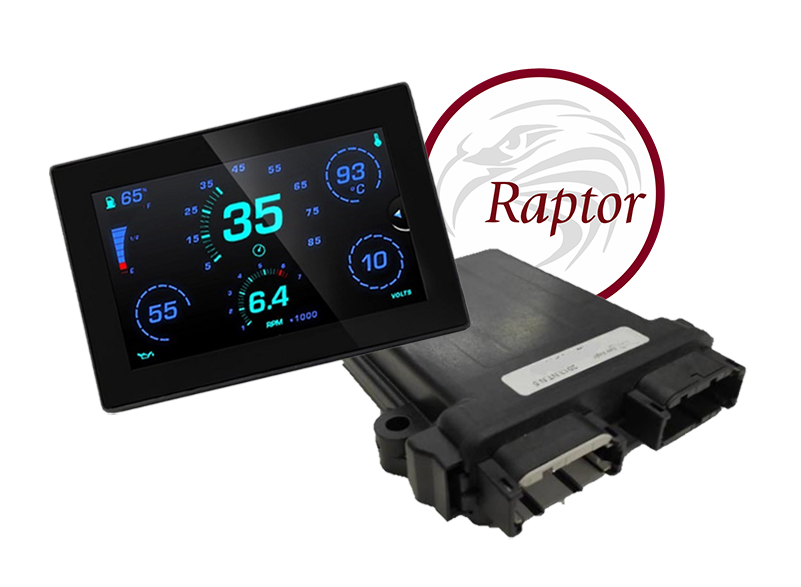 This five-inch, high-resolution color display wrapped in a rugged, environmentally-sealed enclosure,  delivering high-performance graphics and video capabilities. Features 2 CAN channels, one ethernet, and one video input. Able to act as a low-cost, all-in-one display and controller solution.
Electrically and environmentally rugged, ideal for delivering tough, flexible instrumentation in harsh environments. Features a high-resolution LCD Display, allowing it to act as a reader and/or data logger for monitoring your system's parameters. Includes 9 inputs, 4 outputs, and 2 CAN 2.0B communication channels.
GCM 112
With its 5 CAN buses, 3 LIN Masters, 2 ethernet channels, and variety of configurable discrete inputs and outputs, this powerful GCM is ideal for autonomous drive-by-wire, electric-hybrid, and intelligent machine control applications. Its CPU is a high-performance, multi-core architecture with a companion safety power system basis chip able to support the highest level of functional safety (ASIL-D). Contact  [email protected] to pre-order. 
GCM 48
This rugged, low-cost controller module features 6 CAN buses, 3 LIN Masters with 1 LIN bus capable of LIN Slave programming, and configurable discrete inputs and outputs. Contact [email protected] to pre-order. 
Designed to control the fresh air of spark-ignition engines in combination with an electronic throttle control system, this controller is ideal for flex-fuel ETB applications. CNG and LPG are permissible if injected in the airflow after the throttle body. 
With its ability to function at high fuel pressures, these injectors are ideal for enhancing engine performance and running quality through an optimized spray pattern. Available in a variety of multi-orifice tips for improved mixture preparation and atomization with lower BSFC and better idle quality than many other injectors. 
Mitsubishi Heavy Industries Automotive Thermal Systems group (MCC) offers the EWH40Dx AC Compressor to compress low temperature/pressure gaseous refrigerant to a higher temperature/pressure state and circulate it through the refrigerant subsystem. This refrigerant subsystem can aid with passenger cabin comfort cooling or for cooling of energy storage components within the drivetrain. Designed for ~400v systems.
Mitsubishi Heavy Industries Automotive Thermal Systems group (MCC) offers the EWH40Dx heater is off-the-shelf no additional customer funded tooling is required, with engineering design and development (ED&D) available free of charge. The high-quality  EWH40Dx heater is reliable, trusted by vehicles have been sold all around tyhe world. Designed for ~400v systems.
This solid-state DC load reversing contactor is wired in an H-Bridge configuration, rated for up to 30A at 24VDC. The H-Bridge provides an efficient way to reverse polarity on a variety of DC loads, including solenoids, motors, brake/clutch assemblies, etc.
New Eagle's PWM to Analog Converter converts three separate channels of PWM signals to proportional 0-5V analog signals, which is especially useful when paired with control modules with PWM outputs, but no 0-5V analog outputs. 
Need Support?
It's easier to protect your investment and get the most out of powerful software tools like Raptor with New Eagle's engineering support and software maintenance plans. With qualified developers and engineers available to help you get the most out of these powerful tools, along with access to the latest updates and bug fixes, you'll benefit from fewer delays and a more efficient project timeline.
To learn more about support offerings available, visit our support resources page or add dollars to your existing support fund on our webstore.
Get Trained on Raptor
Build or sharpen your Raptor skills by registering for ou three-day, hands-on Raptor Training program. In this embedded model-based development (eMBD) course, you'll learn the basics of using the Raptor platform in a MATLAB® and Simulink® environment to create real-world applications. 
Register for the next available course at our Ann Arbor, Michigan headquarters before space runs out!